After the electronics giant Samsung disclosed the firm's upcoming 2022 smart televisions would boast non-fungible token (NFT) support, the company has revealed it has opened a virtual store inside the Decentraland metaverse. Modeled from the physical store Samsung 837, Samsung's metaverse store is called "Samsung 837X."
Samsung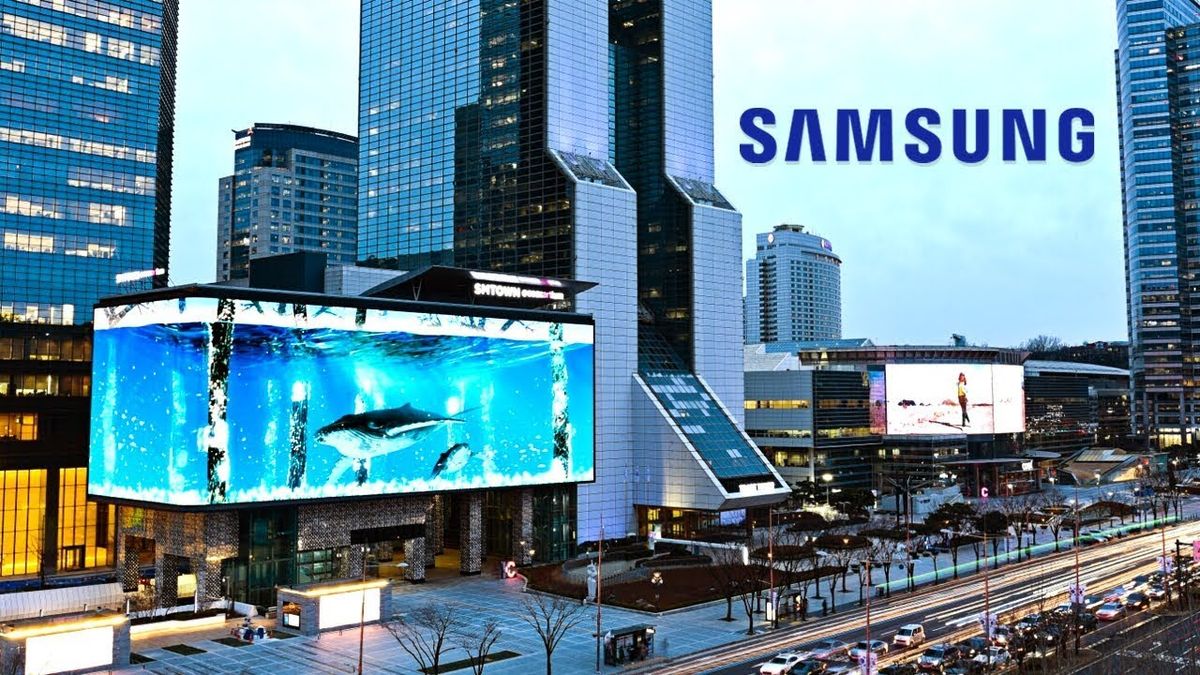 The Samsung Group (or simply Samsung, stylized as SΛMSUNG) (Korean: 삼성 [samsʌŋ]) is a South Korean multinational manufacturing conglomerate headquartered in Samsung Town, Seoul, South Korea.It comprises numerous affiliated businesses, most of them united under the Samsung brand, and is the largest South Korean chaebol (business conglomerate). As of 2020, Samsung has the 8th highest global brand value.
Samsung was founded by Lee Byung-chul in 1938 as a trading company. Over the next three decades, the group diversified into areas including food processing, textiles, insurance, securities, and retail. Samsung entered the electronics industry in the late 1960s and the construction and shipbuilding industries in the mid-1970s; these areas would drive its subsequent growth. Following Lee's death in 1987, Samsung was separated into five business groups – Samsung Group, Shinsegae Group, CJ Group and Hansol Group, and Joongang Group.
Notable Samsung industrial affiliates include Samsung Electronics (the world's largest information technology company, consumer electronics maker and chipmaker measured by 2017 revenues), Samsung Heavy Industries (the world's 2nd largest shipbuilder measured by 2010 revenues),and Samsung Engineering and Samsung C&T Corporation (respectively the world's 13th and 36th largest construction companies). Other notable subsidiaries include Samsung Life Insurance (the world's 14th largest life insurance company), Samsung Everland (operator of Everland Resort, the oldest theme park in South Korea)[10] and Cheil Worldwide (the world's 15th largest advertising agency, as measured by 2012 revenues).
Samsung 837X
On January 6 at 8:37 AM ET, Samsung Electronics America will open the doors to Samsung 837X, an immersive world that can be explored virtually. Modeled on the physical Samsung 837 flagship location in New York City, Samsung's new metaverse experience brings its spirit as an experiential playground for people to discover the amazing possibilities when technology and culture collide.
As part of this next-level experience, guests will embark on a journey where technology joins art, fashion, music and sustainability. Fantasy will meet reality in this creative hub as users explore the experiences unlocked with Samsung technology.
how can fans get involved?
Samsung 837X debuts in Decentraland, a blockchain-powered metaverse, and it is one of the largest brand land takeovers in Decentraland. Fans will be captivated in a digital adventure through the Connectivity Theater and Sustainability Forest to complete quests along the way for 837X Non-Fungible Token (NFT) badges and by a celebration at the Customization Stage.
Connectivity Theater: The theater will showcase Samsung's news from the CES stage and allow guests to learn more about the powerful experiences that come from seamless connectivity and customized solutions powered by Samsung technology.
Sustainability Forest: Samsung recently announced a partnership with climate solutions platform, veritree, to manage the planting of two million trees by the first quarter of 2022. The Sustainability Forest is a spectacular portal where guests can embark on a journey through millions of trees – and even have a mythic encounter.
Customization Stage: To celebrate the debut of 837X, guests are invited to our first-ever metaverse mixed reality live dance party hosted by brilliant producer, DJ and Vibraphonist, Gamma Vibes, from the physical Samsung 837 location. 837X NFT badge holders will be entered into a raffle to win one of three limited-supply wearable collections from Epic to Mythic levels for their Decentraland avatar to sport. Winners will be announced at 8:37 PM ET on January 7, 2022, to kick off the memorable metaverse performance.
said Michelle Crossan-Matos, Senior Vice President of Corporate Marketing and Communications at Samsung Electronics America.
"At Samsung 837X, we're excited to tell our connectivity, sustainability and customization stories in a novel way, in a one-of-a-kind space," "The metaverse empowers us to transcend physical and spatial limits to create unique virtual experiences that could not happen otherwise. Innovation is in our DNA, and we can't wait for you all to experience this burgeoning virtual world."
the planting of two million trees by the first quarter of 2022
Addressing climate change requires action. Samsung is committed to doing our part to reduce our environmental footprint by embedding sustainability into our business strategies and operations, developing innovative products for a circular economy, and empowering eco-conscious consumers to make a positive impact in their communities. But we know there is still so much more work to do. That's why we're broadening our climate strategy by leveraging existing solutions to capture and sequester carbon dioxide (CO2) from the atmosphere.
Today, Samsung Electronics America is launching a new nature-based project to take actions that support a healthy climate and planet. Our company has set a goal to plant two million trees in Madagascar by the end of the first quarter of 2022. Samsung is partnering with climate solutions platform, veritree, to manage the tree-planting initiative by harnessing blockchain technology to verify and track every step of the reforestation process.
"Samsung's sustainability journey is an ongoing and multi-faceted one. Investing in tech innovations, such as those that create efficiency improvements and minimize waste, in combination with nature-based solutions, are vital in the fight against climate change," said Mark Newton, Head of Corporate Sustainability at Samsung Electronics America. "Drawing on our history of open collaboration, we're teaming up with veritree for the tree-planting initiative as an added way to contribute to a better global society."
The Ultimate Giving Tree
Trees and forests play a critical role in stabilizing the climate. They impact the carbon cycle, regulate ecosystems, conserve biodiversity, and can help support the well-being and livelihood of local communities. Samsung will work with on-the-ground experts from Eden Reforestation Projects and community members to plant two million mangrove trees near the Mahajanga region of Madagascar, a coastal region faced with biodiversity challenges due to deforestation on an enormous scale. The tropical trees are expected to restore roughly 200 hectares of land and sequester roughly one billion pounds of CO2 over a 25-year period.
RECOMMENDED
Sustainability at SamsungLEARN MORE
The mangroves that Samsung is planting in Madagascar are some of the world's most effective nature-based carbon sinks — places where CO2 is captured and stored, removing it from the atmosphere. Mangrove roots, which are usually covered by water year-round, store CO2 in the submerged soil along with the trunk and limbs of the tree. Forests in drier climates, such as those in North America, have less capacity to absorb and store carbon dioxide than mangroves. It would take between 50 and 100 years to capture the same amount of carbon in a U.S. forest as in the same area populated with mangroves.
A Verified Tree-planting Approach
veritree utilizes blockchain technology to provide Samsung with a fully integrated platform to support field-level data collection, site planning, inventory (tree) management, and impact monitoring. The system was built to gather data from day one of tree planting and provide greater transparency into the entire process.
"Reforestation is one of the best ways to fight climate change. By collaborating with veritree, eco-conscious brands like Samsung that aim to do good for our planet instead of just less harm can have accurate, ground-level data on their tree planting impact," said Derrick Emsley, Co-Founder and CEO of veritree. "Our mission is to make it simple to incorporate nature-based solutions into any business model and we're excited by our strategic partnership with Samsung."
Creating Meaningful Impact at Every Step
At Samsung, we believe our choices today determine a sustainable tomorrow. In November 2021, we launched an ad campaign, dubbed "Everyday Changes. Meaningful Impact." The campaign highlights how Samsung has been reimagining our products to build environmental sustainability into everything we do, through innovative product design and packaging, as well as through energy-saving technology and recycling. Working in partnership with our consumers, we can do more together.
Samsung's sustainability efforts date back to the 1970s when we introduced the Econo TV, which reduced energy consumption by more than 20 percent via an instant reception feature. More recently, we've expanded the use of renewable power across all our U.S. facilities, we've built an eight-step circular process for our products that focuses on doing more with less, we've launched our Galaxy for the Planet platform, and we're helping consumers take control of their energy consumption with our SmartThings Energy app.
837X Non-Fungible Token
According to Samsung, fans perusing through the theater and forest can "complete quests along the way for 837X Non-Fungible Token (NFT) badges." The theater will showcase Samsung news and the stage will feature a "metaverse mixed reality live dance party" hosted by the DJ Gamma Vibes.
This quest is all about co-creation and unlocking the uniqueness of digital art. Down each winding path, visitors begin curating their own special non-fungible token (NFT) art, personalized and designed based on their decisions along the way. The art starts the same, but when it's completed, it will be totally unique to individual journeys, despite the possibility of identical answers. That's because Samsung has partnered with Pixelmind, which uses AI to empower users to create this generative art. The first 20,000 people to successfully complete the quest will receive their own special one-of-one creation. All participants who complete the quest will also unlock ways to earn You make it NFT badges to add to their growing 837X collection.
NFT art has skyrocketed in popularity and the marketplace is booming. Giving people unique generative NFT art to share and display is just another way Samsung empowers people to show off their individuality. Earlier this year, Samsung announced that its cutting-edge 2022 TVs will feature an integrated NFT platform that enables people to discover, purchase, trade and enjoy their digital artwork in an intuitive way.
metaverse tokens stemming from projects like Decentraland and The Sandbox have seen decent gains in recent weeks. Decentraland (MANA), the native token for the blockchain metaverse has gained 2,304% year-to-date. Both projects have seen significant land sales in recent times as well as metaverse lands have been selling for a great deal of money.
Samsung's newly launched 837X store follows the firm announcing that its upcoming smart TVs will boast NFT support. Samsung's 2022 Smart TVs will come with a new Smart Hub that features a "Gaming Hub," "Watch All," and an "NFT Platform." Samsung has been into blockchain technology for a few years now and has also added crypto wallet support to the firm's Galaxy smartphones.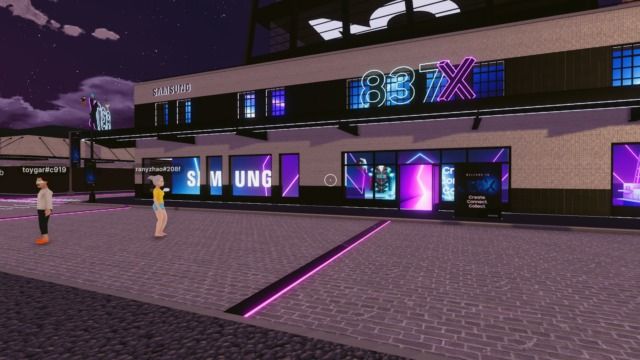 What's new in Samsung 837X
837X visitors can take the lead and curate personal experiences with an all-new customization-focused quest called You make it. As a creative hub that transcends the digital and physical, 837X will now be home to this one-of-a-kind "choose your own journey" quest.
The You make it quest is inspired by all of the ways Samsung empowers people to express their unique style, raising the bar for personalization and choice. Fans will be greeted by a completely redesigned 837X interior, filled with vibrant colors and a fun new look that encourages exploration and self-expression.
The adventure begins with three mystical characters that embody the design, flexibility and connectivity of Samsung's customizable technology. A bold tiger, an intelligent octopus and a sophisticated owl will guide each adventurer, based on their personal design spirit. From there, fans can explore dynamic patterns and colors of the sea, travel through an immersive jungle temple and climb adventurous mountain islands alongside each character.
What's customizable, just for you
"We're at the dawn of the age of true AI-enhanced creativity where your ability to be an artist is only limited by your imagination," "It's an incredible moment, a truly disruptive technology, and we're excited to partner with Samsung and the early explorers of 837X to bring this artistic vision into reality."

Adam Levine, CEO, Pixelmind
What's next
Each one-of-a-kind piece will start to be revealed the week of March 28. Then, people can share or display the collectible art pieces to commemorate their adventure within the metaverse.
NFT art has skyrocketed in popularity and the marketplace is booming. Giving people unique generative NFT art to share and display is just another way Samsung empowers people to show off their individuality. Earlier this year, Samsung announced that its cutting-edge 2022 TVs will feature an integrated NFT platform that enables people to discover, purchase, trade and enjoy their digital artwork in an intuitive way.
Samsung enables people to curate the life they want with the products they need. Our customizable line includes: new BESPOKE home appliances in vibrant colors, finishes and configurations that can evolve as your tastes and needs change; the Galaxy Z Flip3 Bespoke Edition with 49 color combinations that can be unmistakably yours; the Frame which turns the TV into a work of art; and much more.
Source : wikipedia  , samsung , samsung , samsung , samsung , bitcoin , samsung
Related Post