Vacuuming carbon dioxide from the atmosphere has always been a subject for years. Consequently, the move to slow down climate change by removing gigatons of CO2 has attracted various startups, with famous entrepreneurs like Elon Musk and Bill Gates chipping in.
Some experts argue that it can take decades for startups interested in carbon removal to make the world a habitable place for future generations. Still, it's a good start.
5. Heirloom Carbon Technologies (San Francisco)
A low-cost approach to direct air capture via mineralization
All across the world, from the azure pools of Turkey and Oman to the travertine terraces of Yellowstone, our planet quietly pulls carbon dioxide from the air and turns it to stone.
a company dedicated to harnessing and accelerating carbon mineralization to help restore balance to our atmosphere. By 2035, our direct air capture technology will permanently remove billions of tons of CO2 from the atmosphere and store it safely and permanently underground.
Heirloom Carbon Technologies is a carbon-removal company in San Francisco that uses minerals to delay climate change.
Heirloom's CEO, Shashank Samala, reveals that they intend to capture carbon by heating limestone into sponge via mineralization.
Heirloom leverages direct air capture and carbon mineralization to restore balance to our atmosphere.
Carbon removal plays a key role in mitigating greenhouse gases to keep global warming below 2°C
Heirloom is a Direct Air Capture (DAC) startup that aims to develop a low-cost path toward net-zero emissions and remove 1B tons of CO2 per year by 2035. Hard-to-decarbonize sectors like heavy industry (cement, steel, plastic, chemicals), aviation, shipping, and agriculture need both carbon removal and decarbonization efforts. Heirloom aims to reduce the cost of CO2 removed to a fraction of today's costs for commercially available technologies.
Their technology leverages the natural properties of low-cost minerals to create an affordable, scalable, verifiable, permanent, and low-land use removal method.
Founders : Shashank Samala
4. Carbon Clean Solutions (London, United Kingdom)
Carbon Clean Solutions is a London-based sustainable technology startup specializing in CO2 capture and separation. Unlike other approaches, the startup's goal is to reduce carbon costs and physical footprints. The partnership aims to build Carbon Clean's CycloneCC technology via a gas turbine in California.
Carbon Clean was founded in 2009 because the growth rate of atmospheric carbon was increasing. Within a decade, Earth's CO2 levels were at their highest level in 3 million years.
When London-based Carbon Clean was founded in 2009 by Aniruddha Sharma and Prateek Bumb, it developed CO2 separation technology for industrial and gas purification applications. The company also provides proprietary technology to power plants and industrial facilities to remove up to 90 percent of carbon dioxide from flue gases.
Carbon Clean As part of a global effort to address climate crisis and combat the impact of climate change, governments and organizations around the world are accelerating their investment in carbon capture technology to reduce the impact of global warming.
Carbon Clean works with industries such as cement, iron and steel, refineries and waste energy to reduce their carbon emissions and have a positive impact on climate change. The startup in North America includes operations in California, Chicago, Illinois and the University of Kentucky.
Headquartered in London, Carbon Clean has offices in India, Spain and the United States. Since November 2021, we have removed more than 1.5 million tons of carbon from 44 facilities worldwide.
Founders : Aniruddha Sharma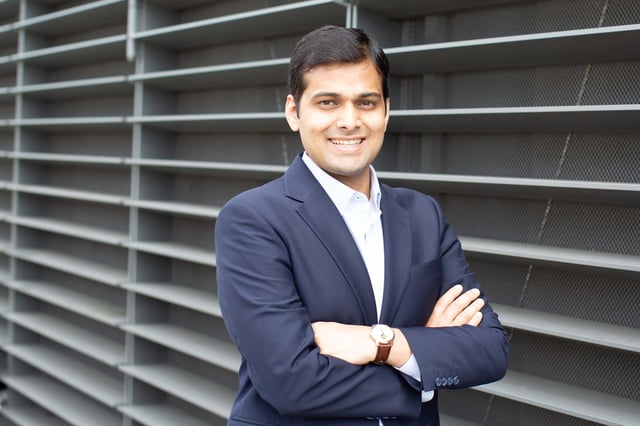 3. See 02 Energy (Canada)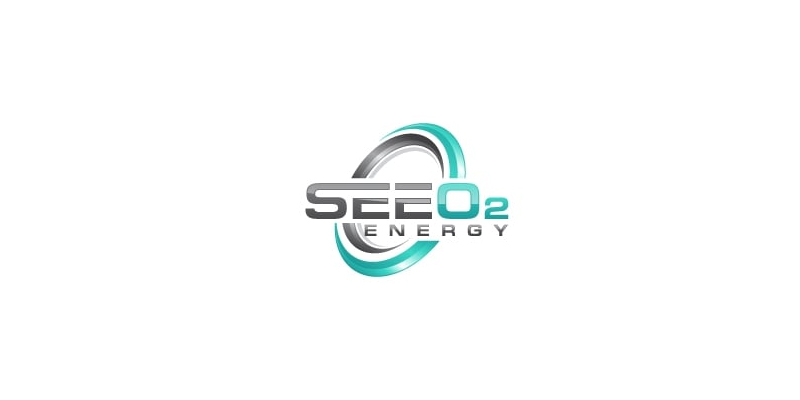 SeeO2 Energy is a company focused on efficiently converting carbon dioxide (CO2) into marketable and clean value-added fuels and chemicals using reversible fuel-cell technology. SeeO2 Energy is converting carbon dioxide into marketable and clean value-added fuels and chemicals using reversible fuel technology. Its electrolyzers can efficientlygenerate gases on-site such as hydrogen, carbon monoxide, or oxygen in a reliable way. The company is developing an efficient and high performance reversible solid oxide cells (RSOFCs). Its technology, which involves the use of a high-performance catalyst material, allows the electrochemical conversion of water to hydrogen, carbon dioxide (CO2) to carbon monoxide (CO), and CO2 and water to produce syngas, a mixture of CO and H2.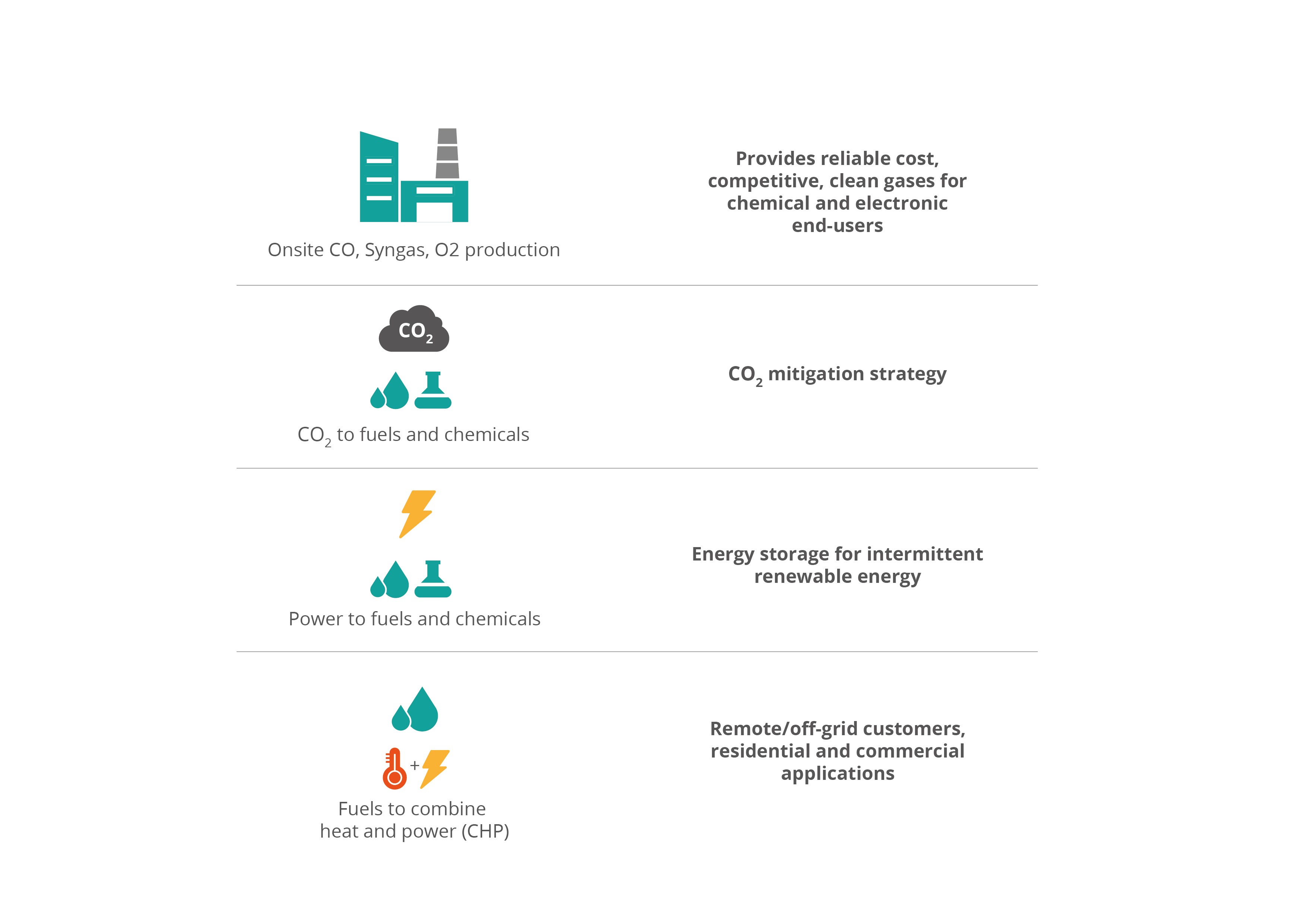 How does this startup work ?
The startup is developing an efficient, high-performance reversible solid oxide cell (RSOFCs). The technology, which involves the use of a high-performance catalyst, allows the electrochemical conversion of water to hydrogen, carbon dioxide (CO2) to carbon monoxide (CO) and CO2, and water to produce synthetic gas, a mixture of CO and H2. Slowly .
Products (synthetic rock, H2 and CO) can be used directly for various applications and can be converted to natural gas, methanol, ammonia, synthetic liquid fuels, etc. H2 converts CO, synthetic gas and methane into electricity and heat for off-grid / remote customers, residential and commercial customers.
SeeO2's platform technology provides 4 major solutions (1 stone for 4 birds)
CO2 to fuels and chemicals → a strategy for CO2 mitigation
Power to fuels → means of energy storage especially for renewable energies (wind and solar)
Fuels (CO, syngas, CH4) to power and heat→ off-grid customers, stabilize grid, energy efficiency
Pure oxygen generation → customers
Founders : Beatriz Molero Sanchez, Paul Addo
2. Carbon Engineering (Canada)
Carbon Engineering Ltd. is a Canadian-based clean energy company focusing on the commercialization of Direct Air Capture (DAC) technology that captures carbon dioxide (CO2) directly from the atmosphere.
This captured CO2 can either be stored underground in what is known as carbon capture and storage, or converted into carbon-neutral fuel using renewable energy sources, by a process the company calls Air to fuels. The company is running a pilot plant in Squamish, British Columbia, removing CO2 from the atmosphere since 2015 and converting it into fuels since December, 2017.
The company was founded in 2009 by David Keith, now a Board Member as well as a professor of public policy and applied physics at Harvard University, and is now led by Daniel Friedmann as CEO, who served as the former CEO of Canadian aero-space company, MDA, for 20 years.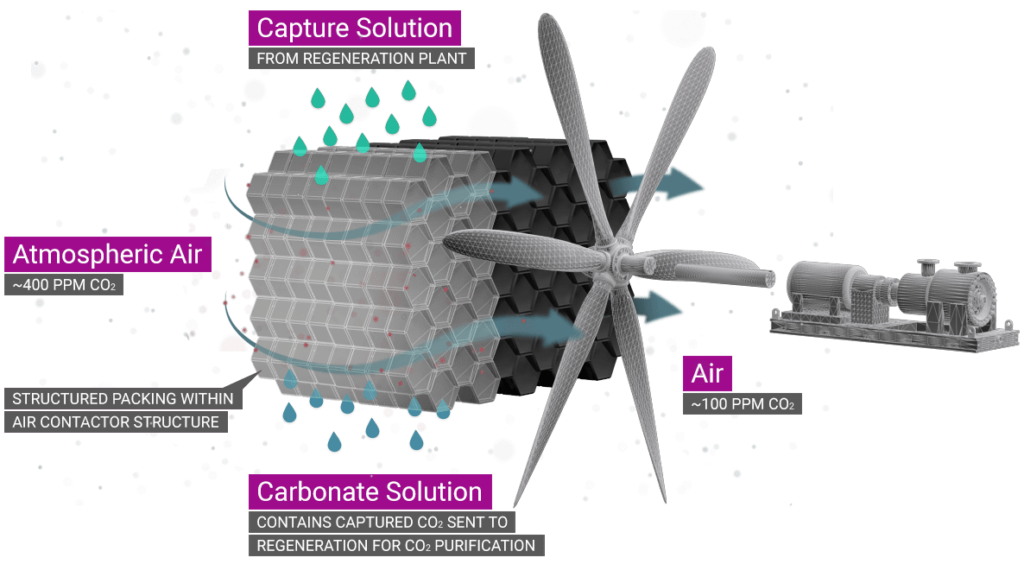 Technology
Carbon Engineering's DAC system integrates two main cycles. The first cycle is the absorption of CO2 from the atmosphere in a device called an "air contactor" using an alkaline hydroxide solution, via proprietary patents such as US20140271379A1 and US20150329369A1. The second cycle regenerates the capture liquid used in the air contactor, and delivers pure CO2 as an end product.These cycles operate in tandem continuously, producing a concentrated stream of CO2 gas as an output, and requiring only energy, water, and small material make up streams as inputs. Energy is used in such a way that no new CO2 emissions are incurred, and thus do not counteract what was captured from the air.[citation needed] The captured atmospheric CO2 can be stored underground, used for enhanced oil recovery, or turned into low-carbon synthetic fuels using the company's "air to fuel" technology.
Carbon Engineering's Air to fuel process can produce fuels such as gasoline, diesel, or jet A using inputs of atmospheric CO2, water, and renewable electricity such as that from solar PV. Electricity is used to split water and manufacture hydrogen, which is then combined with captured atmospheric CO2 to form fuels. This approach offers a means to deliver clean fuels that are compatible with existing engines, and can help de-carbonize the transportation sector by displacing fuels made from crude oil.
Pilot plant demonstration
In 2015, Carbon Engineering started operations of its full end-to-end pilot plant, located in Squamish, British Columbia, Canada. When running, this facility captures roughly 1 ton of atmospheric CO2 per day. In 2017, the company incorporated fuel synthesis capability into the DAC pilot plant and converted CO2 into fuel for the first time in December 2017.
Based on the data obtained from the pilot plant, Keith and colleagues published an article in 2018 that presents a simulation suggesting that CO2 can be captured from the atmosphere at a cost of between US$94 to US$233 per ton, "depending on financial assumptions, energy costs, and the specific choice of inputs and outputs.
Both DAC and Air to fuel technologies have been proven at the pilot plant and are now being scaled up into commercial markets. Individual DAC facilities can be built to capture 1 million tons of CO2 per year. At that scale, one Carbon Engineering air capture plant could negate the emissions from ~250,000 cars—either by sequestering the CO2 or by using the recycled carbon dioxide as a feedstock to produce synthetic fuel.
Over 9,500 of Carbon Engineering's air capture plants would be needed to offset the annual CO2 emissions from the estimated 2 billion vehicles by 2035, which includes medium and heavy trucks that emit significantly more greenhouse gases than passenger vehicles. More still would be needed once aviation, mining, agriculture, construction and non-vehicle emissions are factored in.
Commercialization
In May 2019, Carbon Engineering announced it was partnering with Oxy Low Carbon Ventures, LLC. (OLCV), a subsidiary of Occidental Petroleum, to design and engineer a large-scale DAC plant capable of capturing 500,000 metric tons of carbon dioxide from the air each year, which would be used in OLCV's enhanced oil recovery operations and subsequently stored underground permanently. Located in the Permian Basin, construction for the plant is expected to begin in 2022, with operations targeted for 2024. In September 2019, Carbon Engineering announced they were expanding the capacity of the design of the plant from 500,000 metric tons to an expected one million metric tons of CO2 captured per year.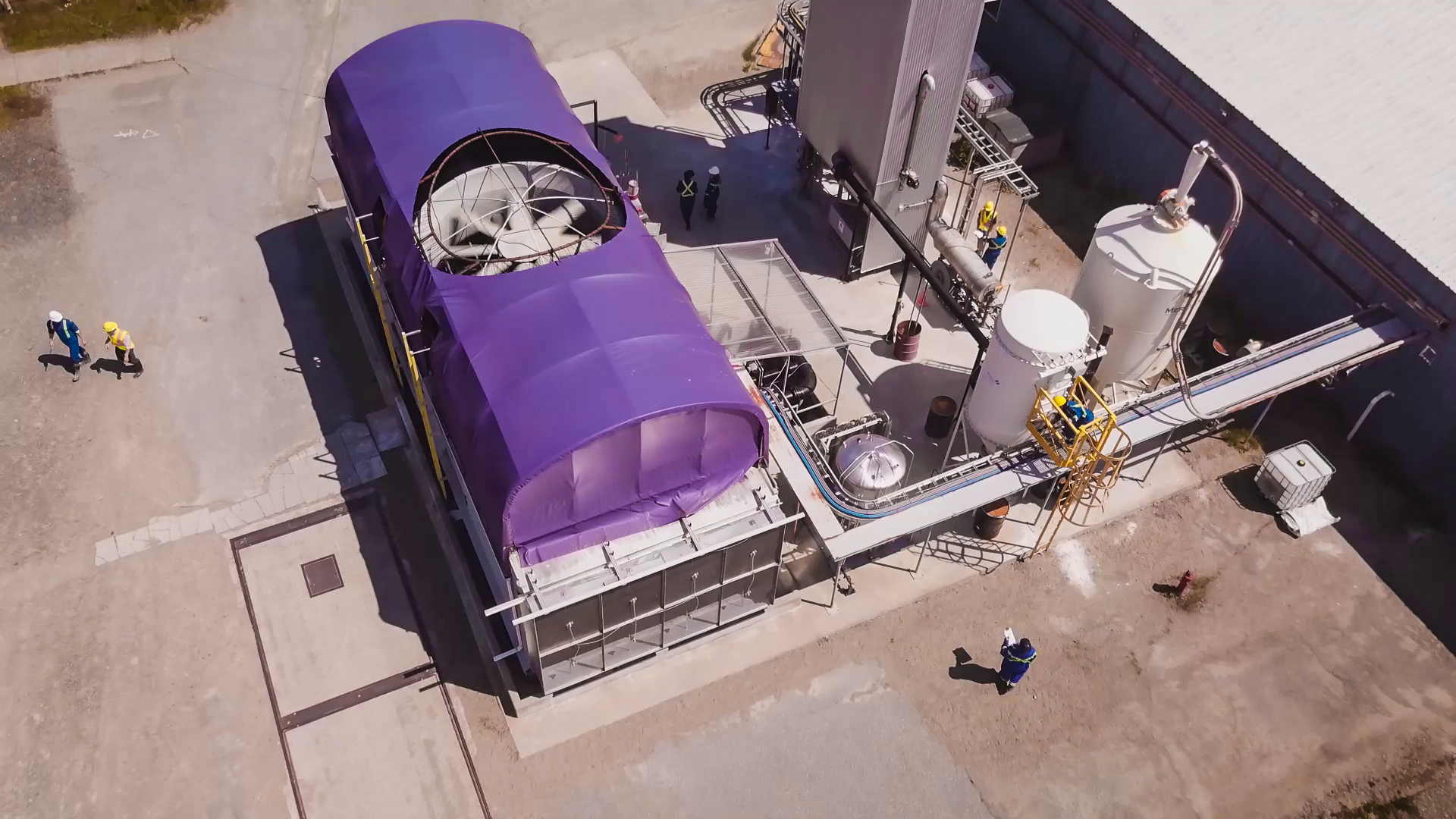 Founders : David Keith
1. Climeworks (Switzerland)
Climeworks AG is a Swiss company specializing in carbon dioxide air capture technology. The company filters the CO2 directly from the ambient air through an adsorption-desorption process.
Projects
In May 2017 the company opened the world's first commercial project to filter CO2 from the ambient air in Hinwil. It consists of 18 direct air capture modules that filter 900 tons of CO2 each year, which are then sold to a greenhouse operator for use as fertilizer.
In October 2017, a demo project followed, in which a module on CO2 filter is used at the Hellisheiði Power Station in Iceland. As part of the Horizon 2020 research project, CO2 will be filtered from the air and then stored underground as a mineral. Climeworks refers to the filtering of CO2 from the ambient air for underground storage also as carbon dioxide removal.
In September 2021, Climeworks's Orca carbon capture plant came online. As of September 2021, it is the largest direct air capture facility in the world, capturing 4000 tons of CO2 per year. Like the pilot project, the operating facility is located at Hellisheiði Power Station.
Climeworks was founded by engineers, Christoph Gebald and Jan Wurzbacher, with a mission to inspire 1 billion people to remove CO₂ from the air, using our direct air capture technology.
Related Post
Source: carbonclean_techstartups_techstartup_moneyinc_plugandplaytechcenter_medium_seeo2energy_crunchbase