Lund University Cardiopulmonary Assistance System (LUCAS) provides mechanical compression of the chest for patients with cardiac arrest. It is mostly used in emergency medicine as an alternative to manual CPR, as it provides constant compression at a constant speed in difficult transport conditions and relieves physical strain on the person performing the CPR. The first generation LUCAS (released in 2003) was pneumatic, while the second and third generations were battery operated.
History
Norwegian inventor Willy Wistung came up with the idea of ​​a pneumatic system that could provide automatic and mechanical compression of the chest after watching rescuers try to perform manual CPR on a patient in a high-speed ambulance. Cardiac surgeon Stig Stein supported Wistung's idea, and after Wistung's death, Swedish entrepreneur Lars Sanannoder and Stein developed the final prototype. Stein and his research team conducted a study at Lund University Hospital, and in 2000 Stein began using it clinically.
In 2003, Swedish ambulances began using the first generation of the LUCAS device, which was pneumatically operated. In 2009, the second generation LUCAS, which now runs on batteries, was released worldwide. In 2016, the latest generation, LUCAS 3, became commercially available.
The LUCAS device can be used both inside and outside the hospital. The European Resuscitation Council guidelines for resuscitation in 2015 do not normally recommend the use of mechanical compression of the chest, but are a good alternative to situations where it may be difficult to maintain consistent, high-quality compression, or when it may be too much for the physician. Be hard. To do this.
How to use the device
To place the device on the patient, the doctor first places the back plate under the patient. This eliminates the "mattress effect" and fixes the device in place. The doctor then attaches the top of the device by locking the support bases on either side of the backboard. Once everything is in order, the doctor can place the suction cup on the patient's chest and turn it on. Finally, the physician bends the stabilizing strap around the patient's neck and rests his or her wrist on the device to facilitate transport.
Depending on the patient's condition, LUCAS can be adjusted with different rates and compression modes.
When transported by ground ambulance, even experienced regenerators can work with minimal interruption to maintain effective compression. The LUCAS machine offers high-quality compression at a constant speed, while up to one-third of manual compression can be inaccurate. In 2013, a 68-year-old man recovered completely after 59 minutes of mechanical compression on the LUCAS device after cardiac arrest outside the hospital, and still had a favorable neurological outcome.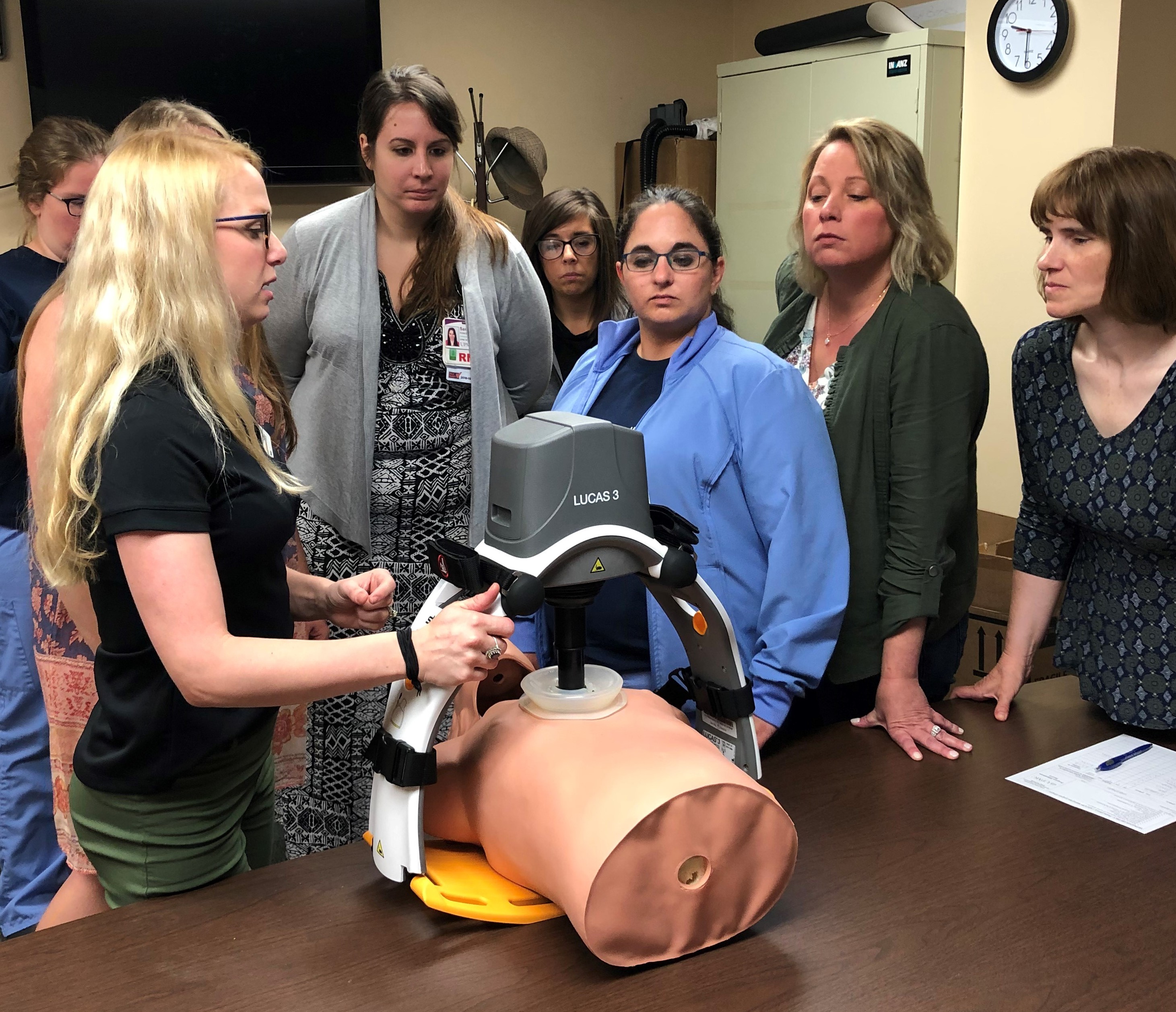 Benefits of the device
The LUCAS chest compression system, provides benefits both to the cardiac arrest patient and the resuscitation team.
It has been proven to improve the quality of CPR in ongoing and prolonged CPR procedures.
The LUCAS device extends the reach of care by maintaining chest compressions during transport to advanced lifesaving therapies, including ECMO or PCI in the cath lab. It can improve provider safety, avoiding fatigue over long durations and reducing transport risks by allowing caregivers to sit belted.
And it can increase the efficiency of caregiving teams, calming the scene and providing an extra pair of hands so you can focus on the patient and underlying conditions.
The LUCAS device has demonstrated to increase blood flow to the brain and achieve higher EtCO2 values compared to manual compressions.
The LUCAS device helps to bring interventions such as ECMO/ECPR within reach for patients who don't respond to CPR and defibrillation alone. Plus, it can be used during angiography and PCI in the cath lab, allowing for potential lifesaving intervention.
Manual CPR involves risks to caregivers particularly during patient transport and during interventions in the cath lab.The LUCAS reduces these risks by facilitating safer transports, reducing x-ray exposure of the CPR provider during PCI, and lessening body strain and awkward work positions while delivering high-quality chest compressions, regardless of treatment surface or movement requirements.
When you rely on LUCAS to handle proper chest compressions, you can focus on other life-saving tasks and speed diagnosis and treatment of underlying conditions.
With LUCAS™, chest compressions do not have to be a compromise between rescuer safety and compression efficacy
Some cardiac arrest patients will require CPR during transportation in an ambulance. However, it is well known that providing CPR in a moving ambulance is not only close to impossible to do effectively or without frequent interruptions, it also puts the CPR provider's safety at risk. Lifesaving becomes a compromise on rescuer safety as well as critical patient care.
With LUCAS, rescuers can sit safely belted while LUCAS performs guidelines-consistent and effective chest compressions with a minimum of interruptions. This increases the chances for good patient outcomes and improves the safety of rescuers.
What is the difference between Lucas 2 and Lucas 3?
The 3.0 version was launched in major markets around the world during 2016. Compared to LUCAS 2 this generation and version has improved features to faciliate maintenance and handling and allows for new insights through easy, wireless (Bluetooth) access to device data.
LUCAS 3 has Bluetooth ® communication and now the new version 3.1 also has Wi-Fi ® connectivity with LIFENET ® System. This enables device readiness notifications, setup options and transmission of device reports to users over e-mail.
LUCAS 3 is the third generation LUCAS device, built on the LUCAS legacy. The 3.0 version was launched in major markets around the world during 2016. Compared to LUCAS 2 this generation and version has improved features to faciliate maintenance and handling and allows for new insights through easy, wireless (Bluetooth) access to device data.
source:rampfesthudson , yigitsaglik , wikipedia
Related Post